Background
Dr Peter Hatcher developed the programme whilst working as an educational psychologist in Cumbria. The programme is based on Hatcher's research study (1994) that compared three different intervention approaches: additional reading, additional phonological training and a combination of reading and phonology. Trained teachers delivered the programme to a group of seven year old children. The research clearly demonstrated the approach that combined reading and phonological training lead to greater progress for children described as 'reading delayed'. The reading elements of the programme are modelled on the work of Marie Clay (1985).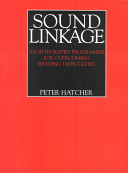 As a result of his research, Hatcher published the Sound Linkage programme that includes phonological and phonological linkage activities. These activities are part of The Reading intervention Programme. Further details of the research are covered in Sound Linkage (2000) published by Wiley.
Hatcher, P.J., Hulme C., and Ellis, A.W. (1994). Ameliorating Early Reading Failure by Integrating the Teaching of Reading and Phonological Skills: The Phonological Linkage Hypothesis.
Child Development, 65, 41-57